Letzte Generation joins XR's Saturday A12 Highway Blockade
On Saturday, September 30th, 2023, Michael Salzgeber had been waiting for the A12 blockade before it even started. He took pictures and shared them on his way to the protest, saying on one post,"On the way to The Hague. For the past 3 weeks thousands have been joining the peaceful protests there, demanding an end to fossil fuel subsidies. This week @AufstandLastGen is joining them! See you soon @NLRebellon!"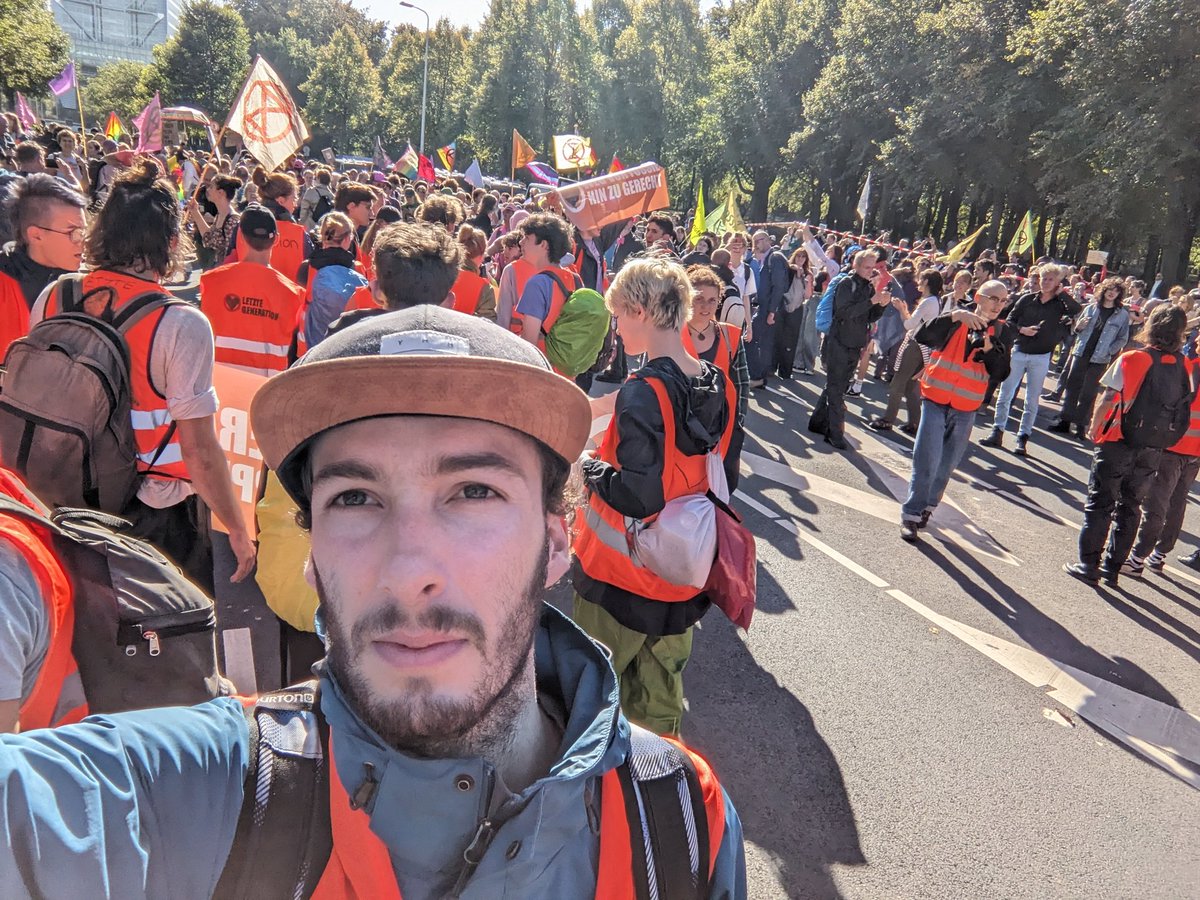 Carla Rochel, spokeswoman for Letzte Generation, had also posted on Twitter saying, "Hundreds of us are currently blocking the A12 in The Hague- for an immediate end to fossil fuel subsidies!".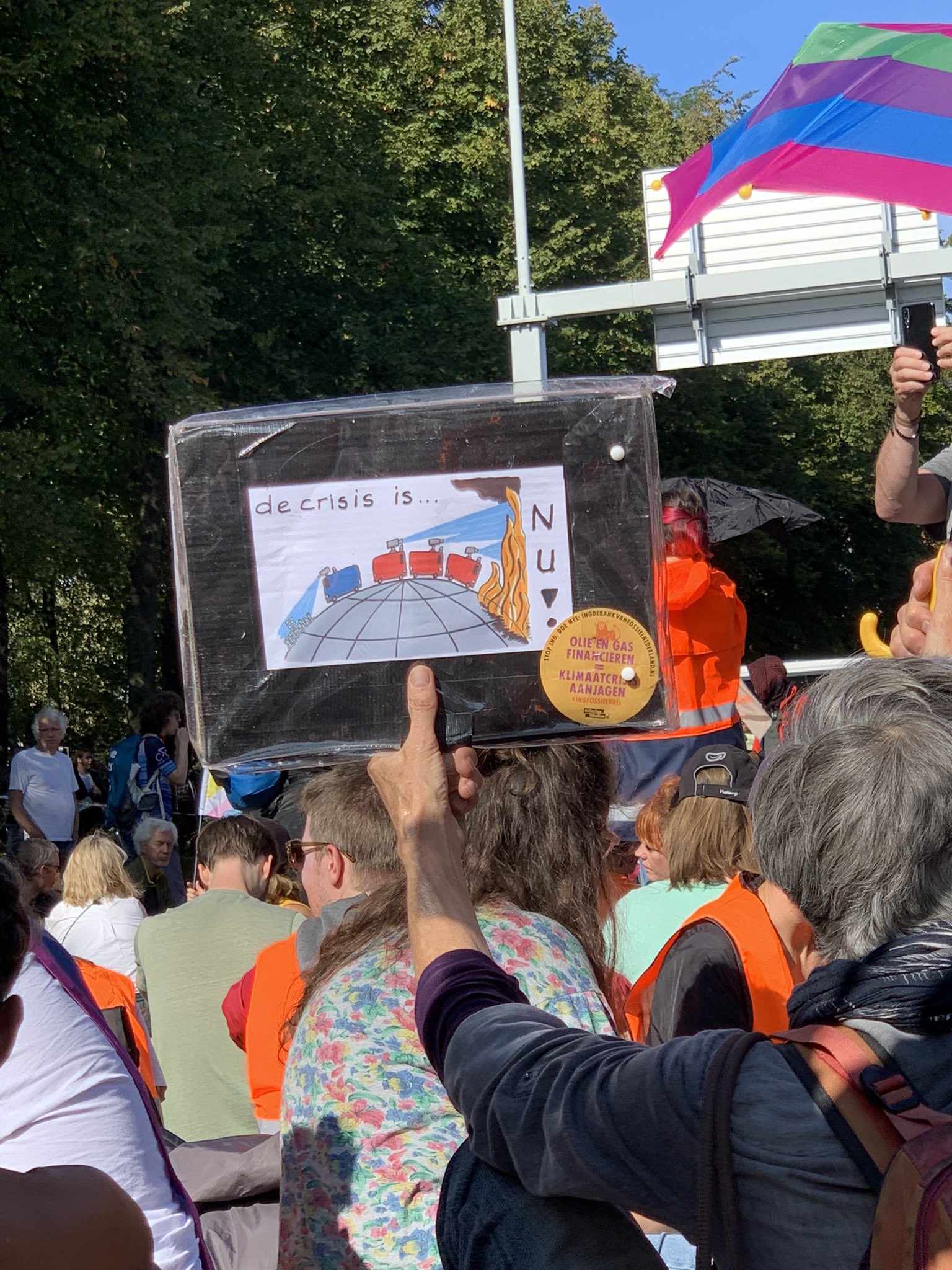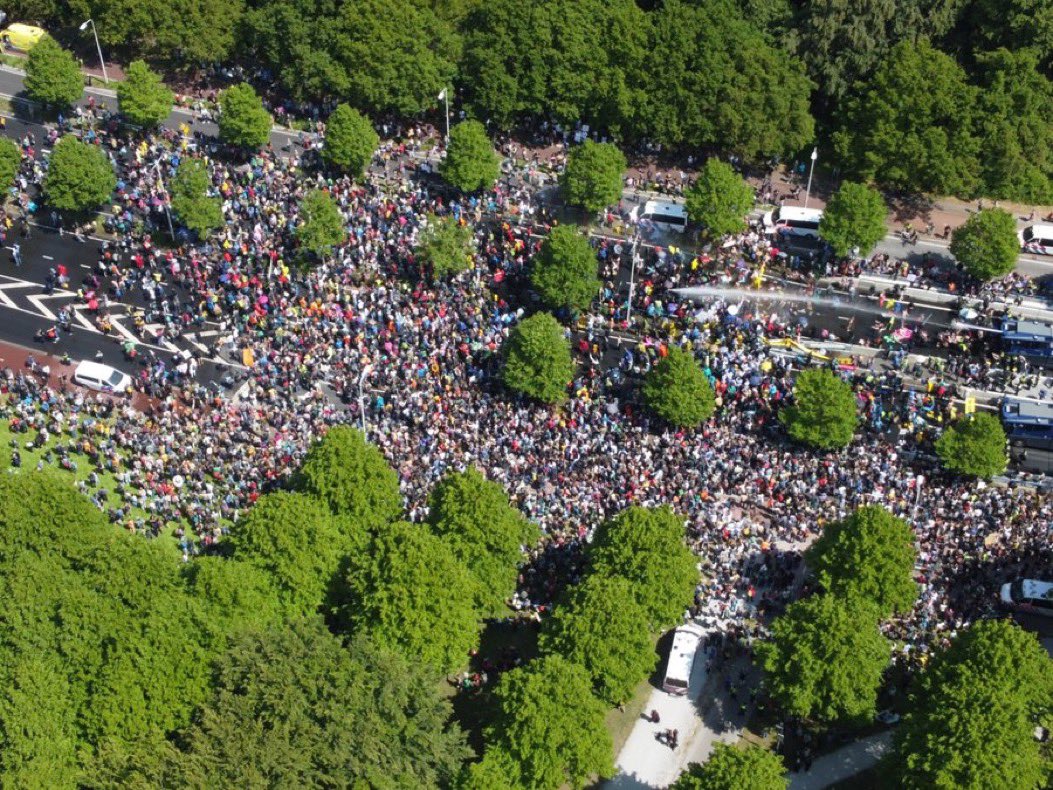 There were also reports that scores of Letzte Generation activists were still gluing themselves down to the street to show their solidarity and alliance with XR Netherlands A12 blockade. Many of them had to be loosened from the asphalt with acetone. XR Netherlands on Twitter reported that many Letzte Generation protesters were arrested and taken onto buses. A Dutch independent photojournalist tweeted, "A demonstrator from Letzte Generation had to hold her medication in her hands so its not confiscated during her arrest- and thrown into the blue bin- the Politie(police) did not allow me to take pictures and grabs me and tells me do not take photograph."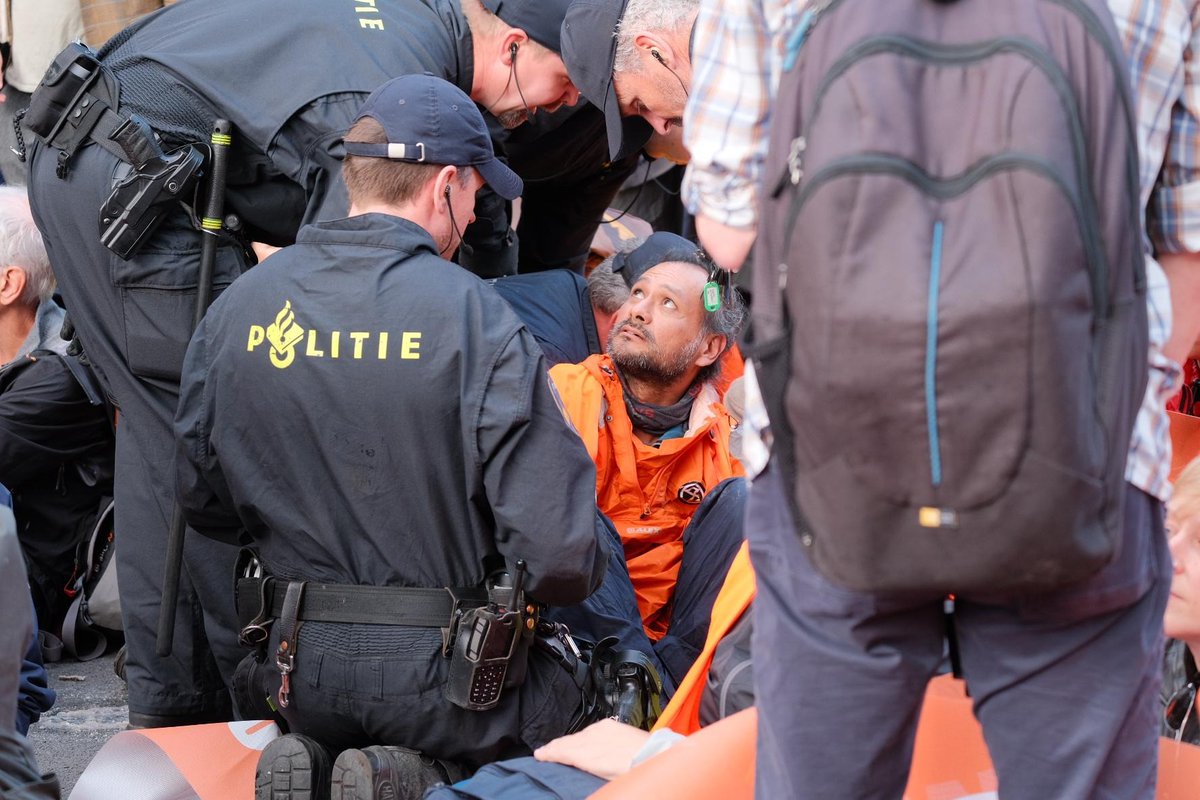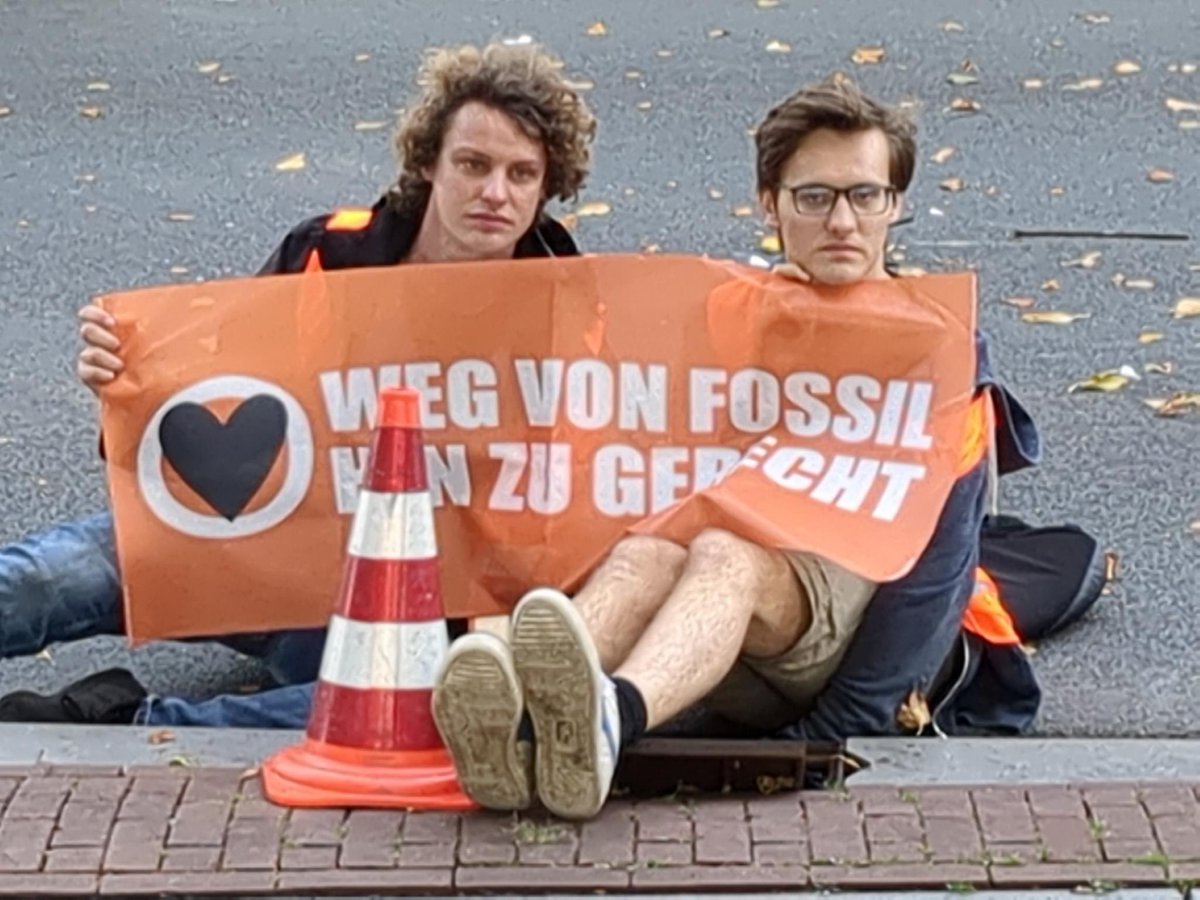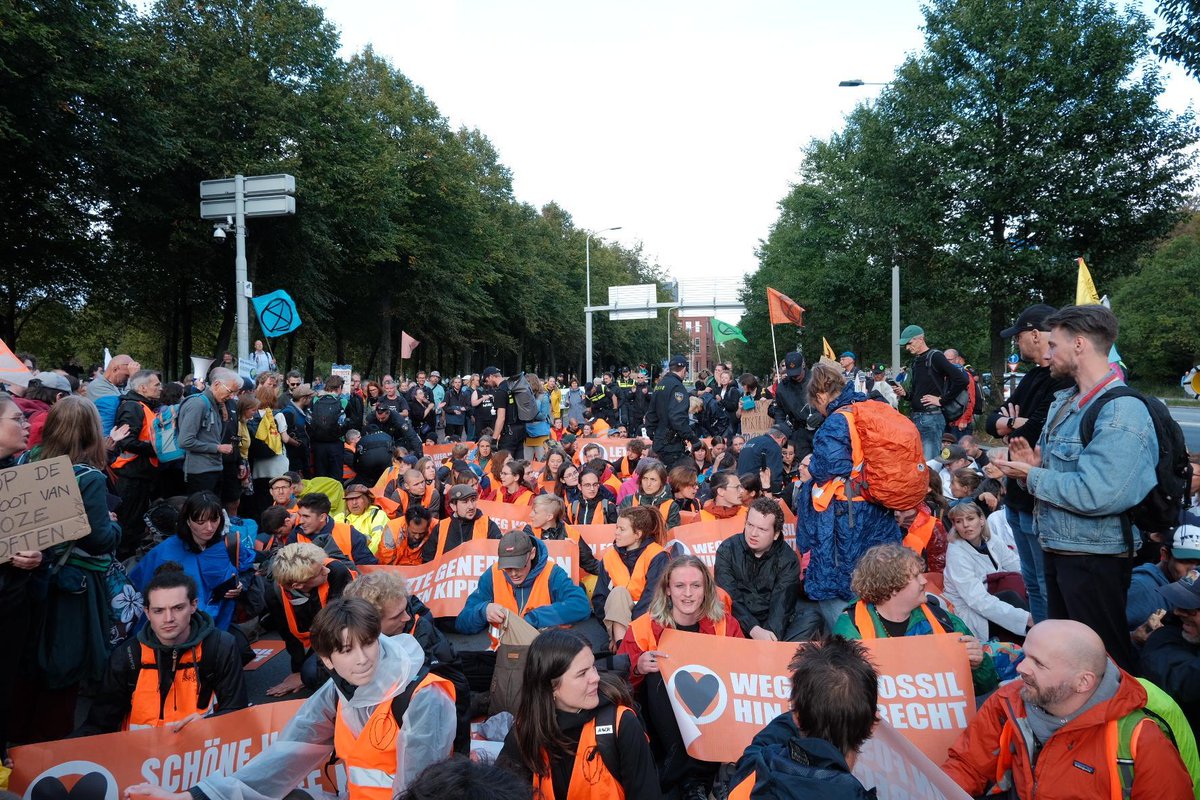 Michiel on Twitter posts photos from the action, calling on his followers to ask if the officers' use of force is proportionate for the non-violent action.
Ik wil mijn block lijst aanvullen. Zijn er mensen die hierheen kijken en dan glashard kunnen zeggen dat het "proportioneel" en "eigen schuld dikke bult is". Knokploeg die zich afreageert op jonge adolescenten, vrouwen. Met zulke mensen sta ik niet graag in contact. Laat je horen

— Michiel (⧖) 🌱 (@MichielT37) October 1, 2023
Letzte Generation did not shy away from posting on Twitter saying, "Protest on the A12 in the Hague. Today we are together with the Netherlands Rebellion on the highway in front of the Dutch Parliament building and are demanding an immediate end to fossil fuel subsidies. Let's take responsibility together- even across national border!" 
🇳🇱🦺 Protest auf der A12 in Den Haag

Heute sind wir gemeinsam mit @NLRebellion auf der Autobahn vor dem niederländischen Parlament und fordern das sofortige Ende fossiler Subventionen.

Lasst uns gemeinsam Verantwortung übernehmen – auch über Ländergrenzen hinweg! pic.twitter.com/oHa0aomWCf

— Letzte Generation (@AufstandLastGen) September 30, 2023
Things got pretty violent at the Hague, after groups of Letzte Generation protesters were gluing themselves on the street and police came to arrest them. Michael Salzgeber, experiencing the police brutality, posted on Twitter, "Why do you feel the need to be brutal to peaceful protesters that are just demanding their human right of a life in safety and peace? The UN has called these methods torture".
Independent journalist Frederike Geerdink gives personal insight to freedom of press rights in Germany.
this is #torture, and as a member of the #pressfreedom policy team of @nvj i add that the policeman who is asking the german reporter for a presscard (a special one, only given to certain dutch reporters), is violating press freedom. (i'm speaking on my own behalf, not nvj's!) https://t.co/YWNQusIb94

— Frederike Geerdink (@fgeerdink) October 1, 2023
Activist Frank van der Linde weighs in on the violence, "The goat legs are supplied as standard with the @Politie 😡😡😡".
De bokkenpootjes worden standaard bij de @Politie... 😡😡😡 https://t.co/MMAKjS9qxX
— Frank van der Linde (@frankvdlinde) October 1, 2023
There was a lot of talk about police brutality on the A12 highway, one queer anarchist posted on Twitter saying, "Come to the A12! There are people sitting on the matrix boards! The support demo is growing. I was forcibly taken off the road myself. Also seen a lot of police brutality. Just returned to the Hague from ADO. Make some fucking noise!!!!"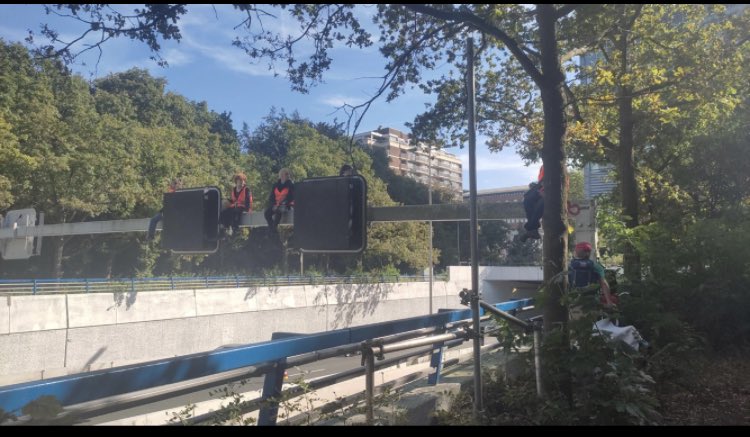 XR Netherlands tweets, "The fire brigade's aerial platform has arrived to remove six activists from @AufstandLastGen from the matrix boards above the A12. Lots of work for nothing. We'll come back tomorrow".
Hoogwerker van de brandweer is gearriveerd om zes activisten van @AufstandLastGen van de matrixborden boven de A12 te verwijderen.

Hoop werk voor niks. Morgen komen we terug. 12:00 uur #A12. #StopFossieleSubsidies #Klimaatrechtvaardigheid pic.twitter.com/xTGmL4kowz

— Extinction Rebellion Nederland (@NLRebellion) October 1, 2023
The Hague 6 who were participating in the A12 blockade were released from Dutch police sometime later in the day.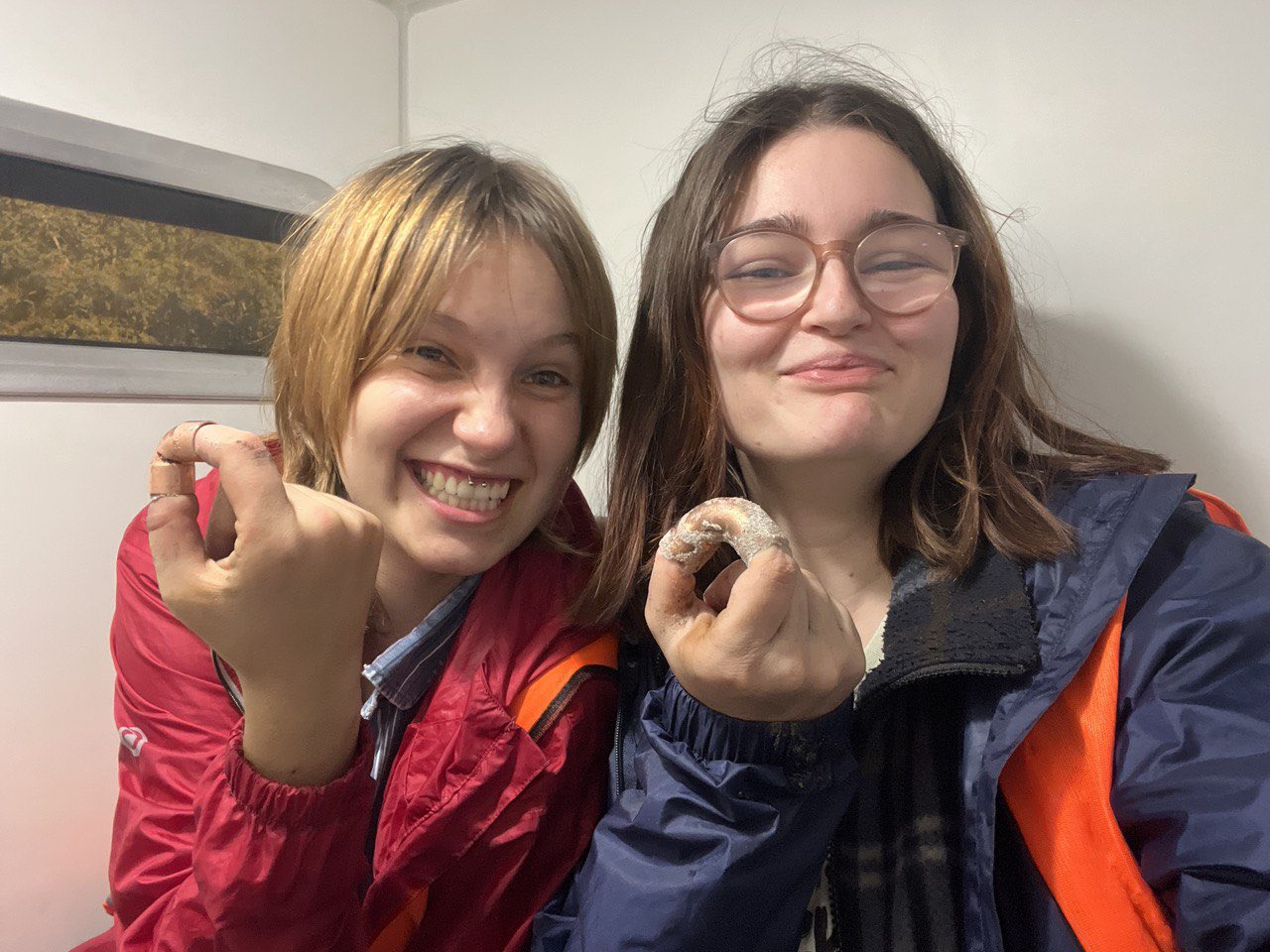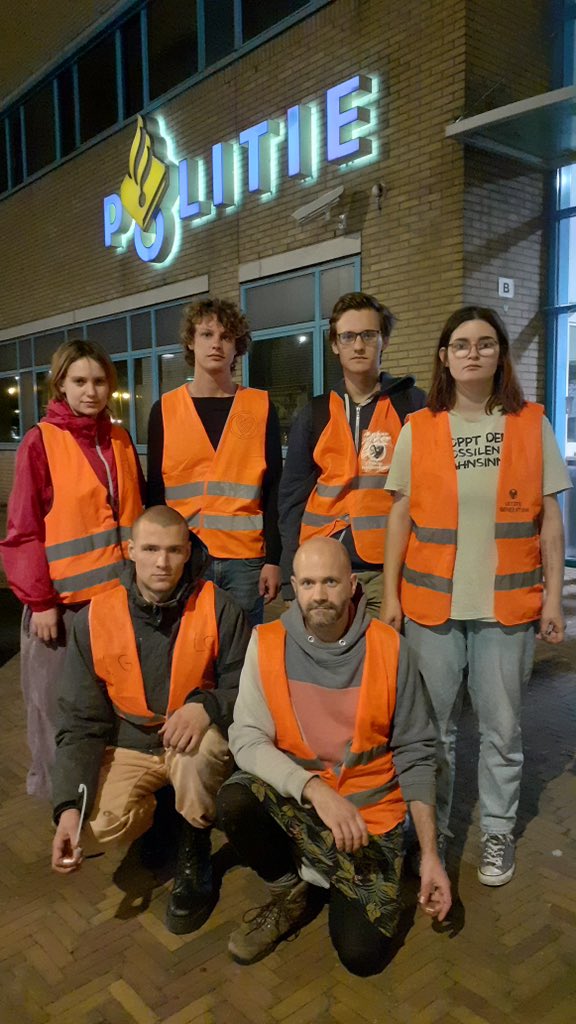 In Solidarity, D Dash
Join DE This Sunday for a talk about how you can join this exciting group - and start making headlines of your own! Or at least help others do the same.
"What are our responsibilities at this time? Because of the fossil fuel industry, we are facing horrors of a magnitude never before experienced in our existence. Our government continues to lead us to the edge of no return. We must stand up and defend ourselves. No one else is going to do it. It must be us, if we want to live.
Our methods must be disruptive, and they must be nonviolent. Our actions are evidence-based, credible, and we have a plan. The only thing missing at this point in time is YOU!"
Register now at declareemergency.org/events