Letzte Generation Starts October with a Fall Themed Rebellion
A Farmer affinity group, part of the Letzte Generation, blocked a street in Berlin on October 5th at around 7:45 a.m, There were several Letzte Generation supporters and famers blocking the road with a dozen hay and straw bales, holding a banner with this message: "Climate crisis = Food crisis".
   Amelie Deschler biologist and vegetable garden drove from the fields to the streets of Berlin explaining her concerns about the climate crisis, "Every day I ask myself with concern: How far and for how long can we still adapt? Where does the adaption have its limits? Here on site and in the fields on this world? It makes me sad and angry to have to ask myself these questions. Actually, I don't want to have to face them. And certainly not as a priority. Because first of all, I must ask as a matter of urgency: What prevents the governments of this world from doing everything possible to reduce destructive emissions? We must take action and slow down the ongoing catastrophe before the food systems collapse in even more places in the world - with all social and existential consequences."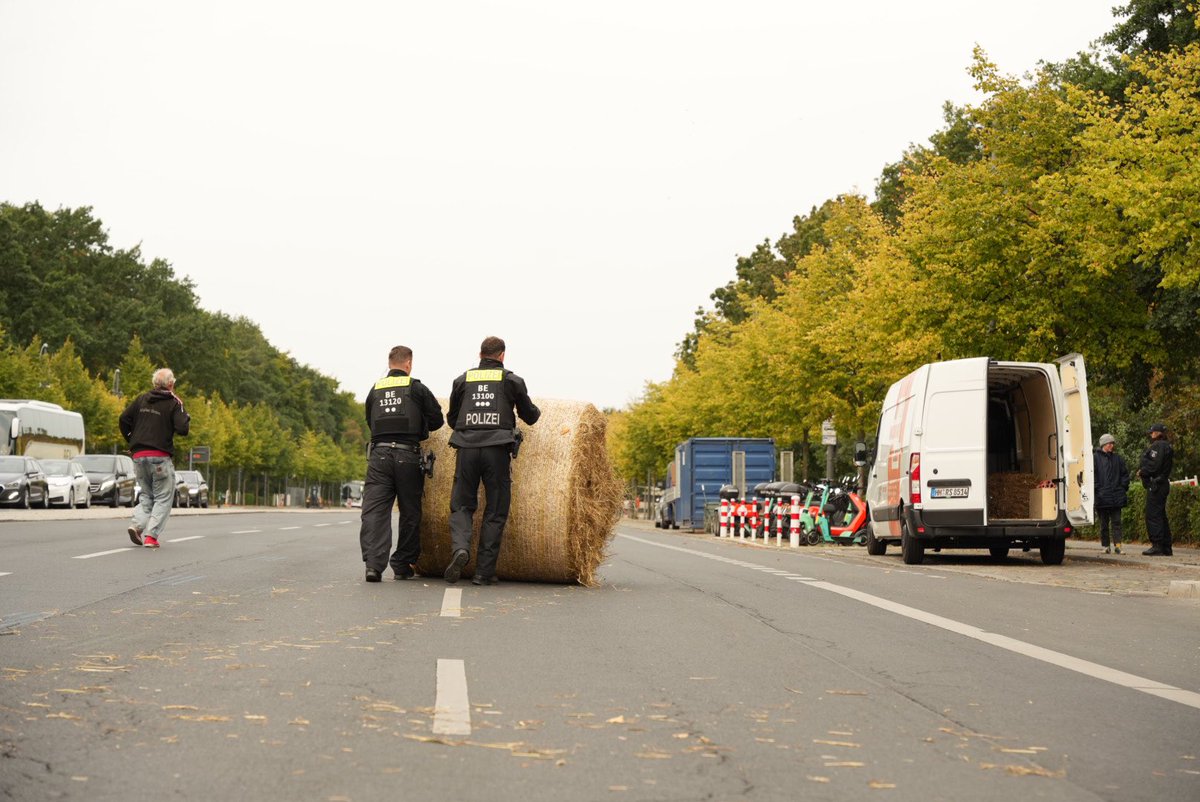 German Raiffeisen Association, umbrella organization of cooperatively organized companies of the German agricultural and food industry, also had a similar warning, "Reliably good harvests are becoming increasingly difficult in Germany."
   NASA and the Potsdam Institute for Climate Impact Research prove Amelie Deschler, Letzte Generation, and the other farmers right when new studies like this come out, "Already today, more than 250 million people worldwide are affected by acute hunger. Global warming is further exacerbating the already existing food crisis. Rapidly onset of lightning droughts, long-lasting dry periods and heavy rainfall endanger crops worldwide and lead to both quality and serious yield losses of unprecedented proportions. Corn yields, for example, which are crucial for food security in many regions, could fall by almost a quarter globally by the end of the century."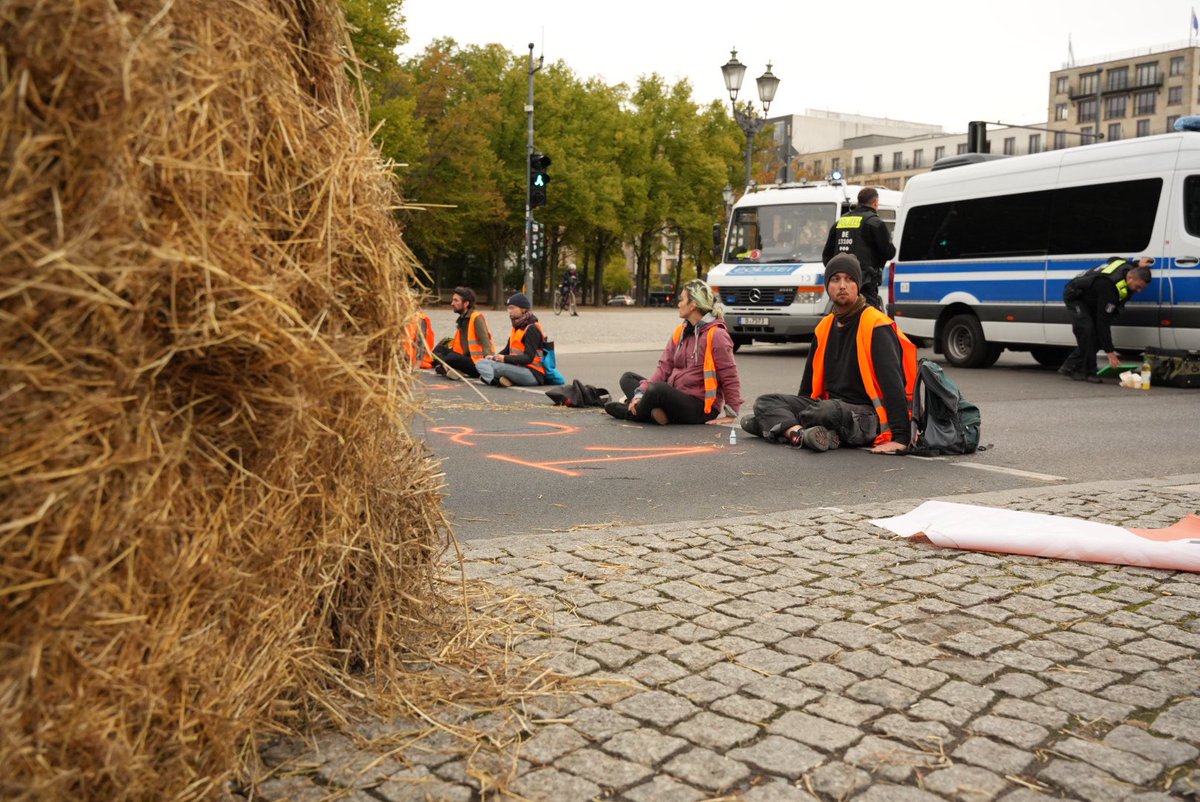 TThe action was right by the September 17th action location at Brandenburg Gate. The protesters used the 11 straw and hay bales to block stationary traffic on the street. Amelie Deschler sat in front of the hay bales as she joined the peaceful blockade with Letzte Generation and other farmers. Additionally other blockades were held in solidarity with the farmers in Berlin city center and on the A100 motorway. The supporters of the last generation have tremendous momentum and are sending a clear message with momentum-driven mobilizations: We must get out of oil, gas and coal by 2030 at the latest - the fossil continues-to-see leads us into a social collapse. Until the Scholz government initiates the much-needed turnaround, the protest will continue on Berlin's streets.
There is also a concert scheduled on October 18th, and 3 badass artists named Mal Élevé, Sorah, and the Berlin Boom Orchestra will perform a solo concert for Letzte Generation at the SO36 music club on Oranienstr. 190, Kruezber, Berlin, De 10999. There was another music show performed on October 1st by Mono & Nikitaman in solidarity with Letzte Generation, one of the artist spoke about the climate crisis and said this about Letzte Generation," If my children made this decision, I would just say: Bravo, praise, a medal for you!"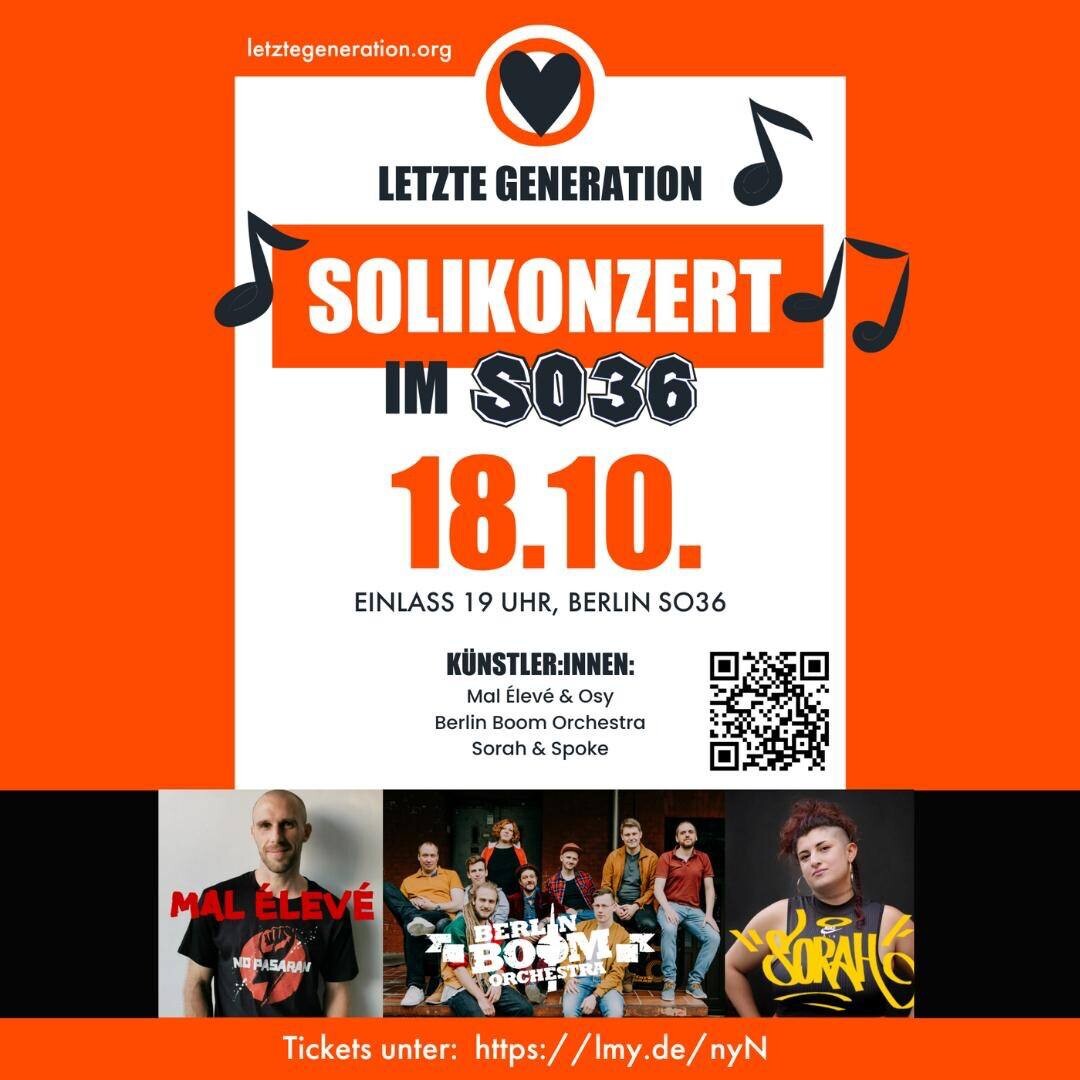 Mono & Nikitaman solidarisieren sich mit #LetzteGeneration !
Bei Konzert in Leipzig am 01. Oktober 2023 auf der Bühne:

💬 "Wenn meine Kinder diese Entscheidung treffen würden, würde ich nur sagen: Bravo, ein Lob, ein Orden für euch!"

1/2 pic.twitter.com/009gz5yQrN

— Letzte Generation (@AufstandLastGen) October 5, 2023
The working group "Letzte Generation and Churches" celebrated German Unity day or 'Thanksgiving' last Sunday on October 1st, 2023. In collaboration with several parishes, the Thanksgiving took place under the sign of the climate catastrophe together with supporter of the last generation. The churches already held services at different locations to express gratitude for the harvest and now they are drawing attention to the soaring threat of food security caused by the escalating climate catastrophe. This summers devastating heat waves and storms showed beyond doubt how vulnerable and endangered our livelihoods are. Over 250 million people worldwide are affected by acute hunger in 2023. The federal government is trying to turn away from the use of fossil fuels and keeps delaying the urgently needed phase-out of oil, gas, and coal fueling climate disasters.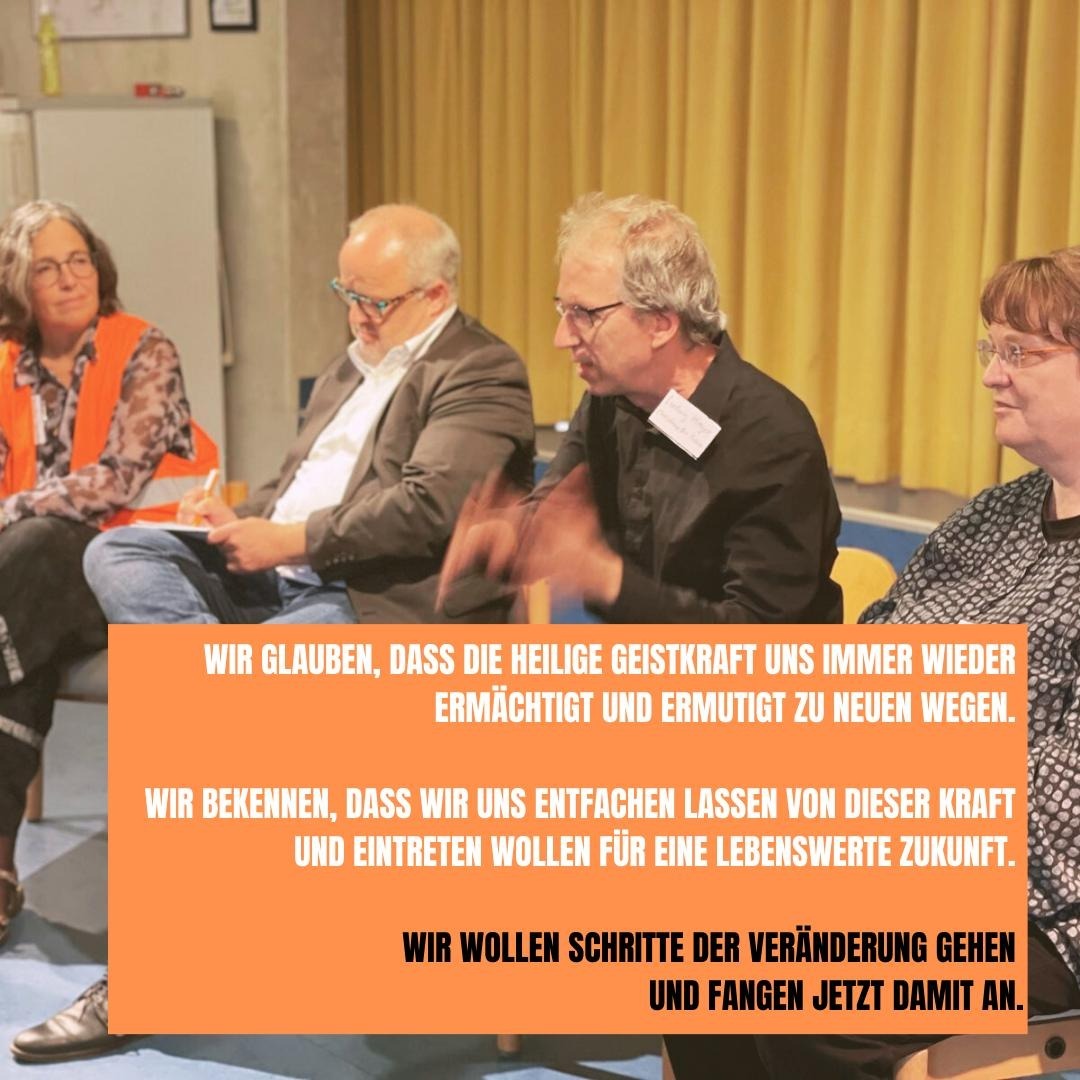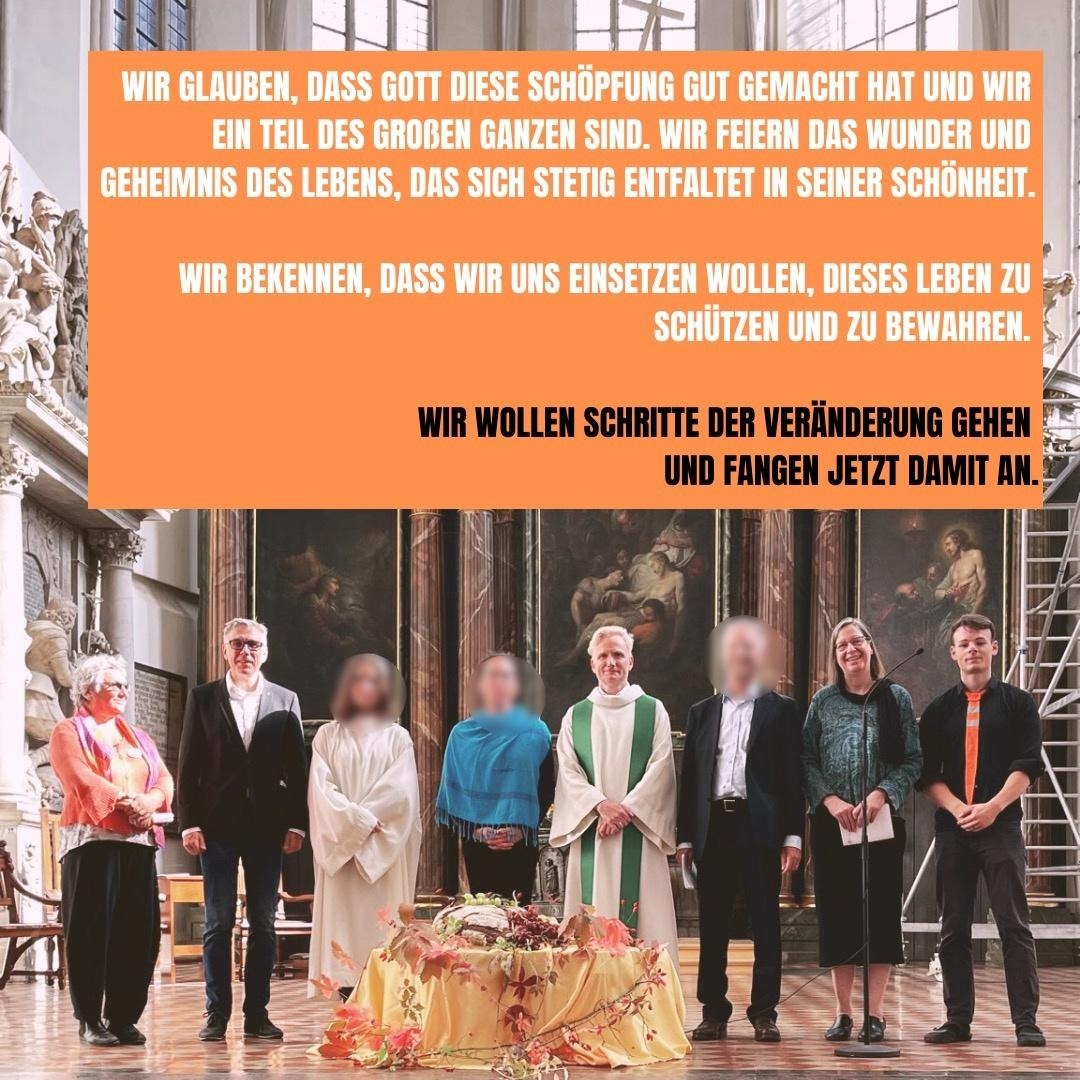 A Professor of Bible Studies and Ethics at the University of Mainz name Dr. Ruben Zimmermann said during the Sunday service, "We can no longer celebrate Thanksgiving in 2023 as before. Not only harvests, but also entire livelihoods of farmers have been destroyed in the floods. "What man sows, he will reap," we read in a wisdom word of the Bible. The disasters are also "harvest" of our own seeds." The churches supporting Letzte Generation invites everyone to join services, to figure out how to deal with causes and consequences of the climate catastrophe as well as viable options for action and the exchanging of ideas. Letzte Generation scheduled brunch and a protest march with the Twelve Apostle Church Community by the Neptune Fountain(Alexanderplatz) for this Saturday, October 7th 2023 from 11 a.m to 1:30 p.m.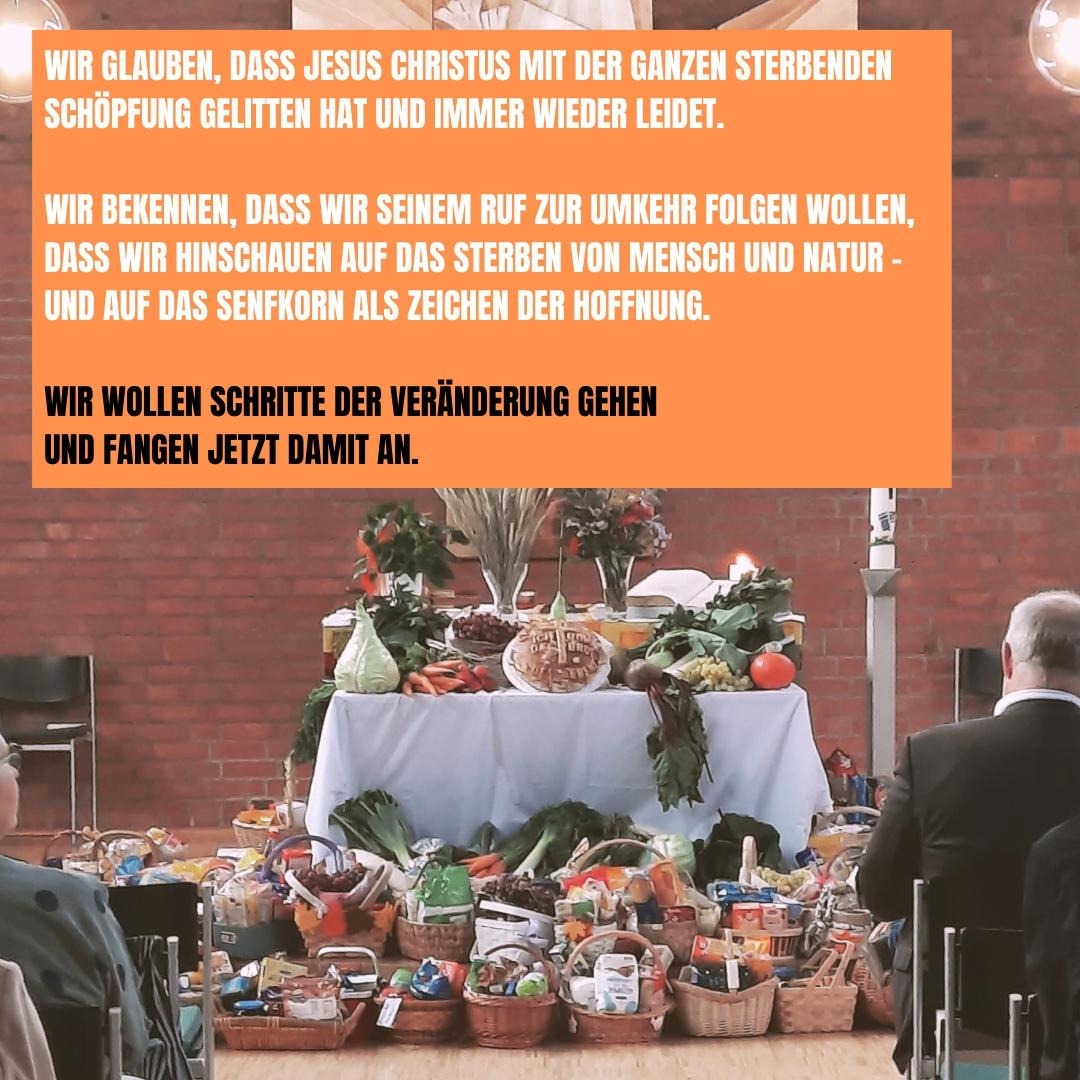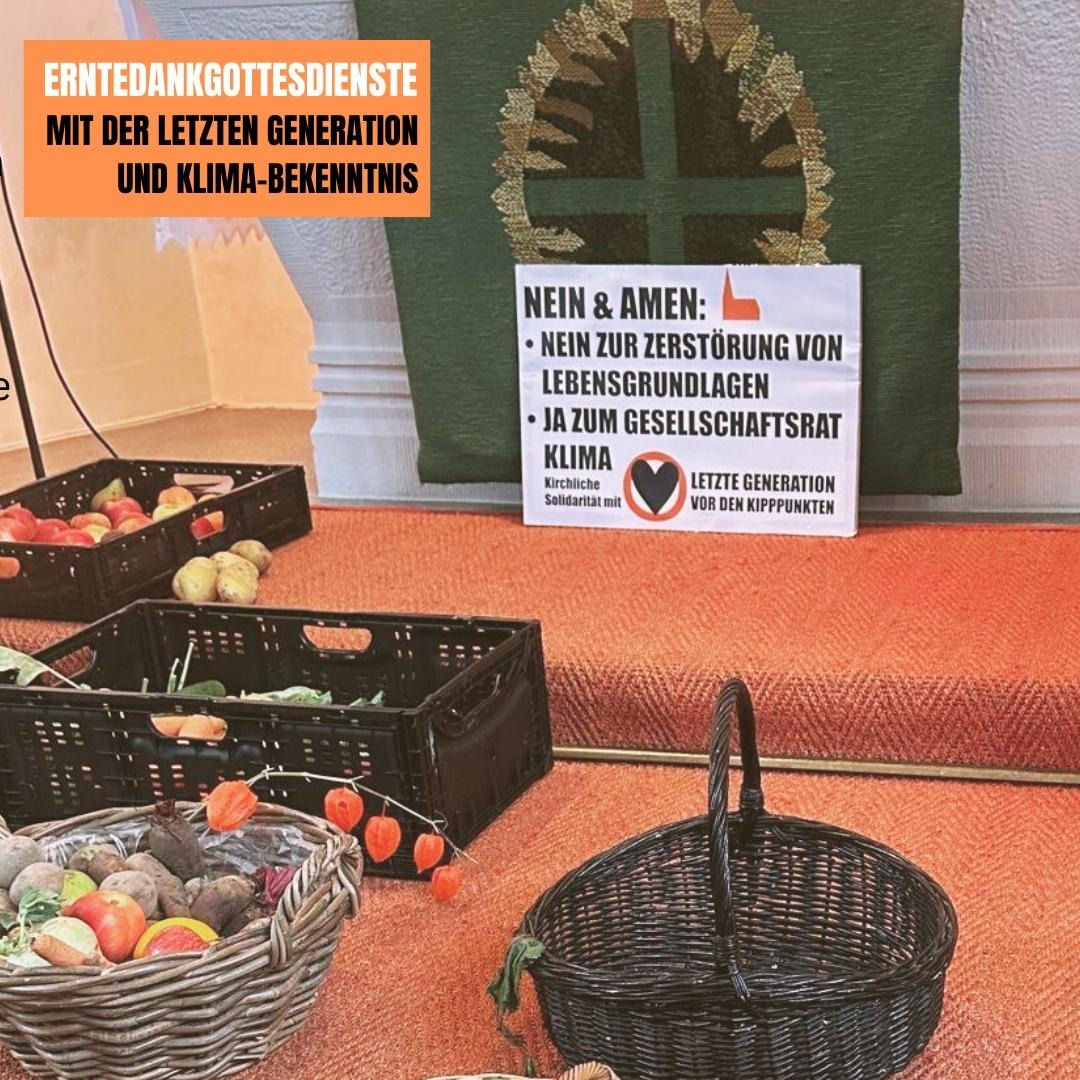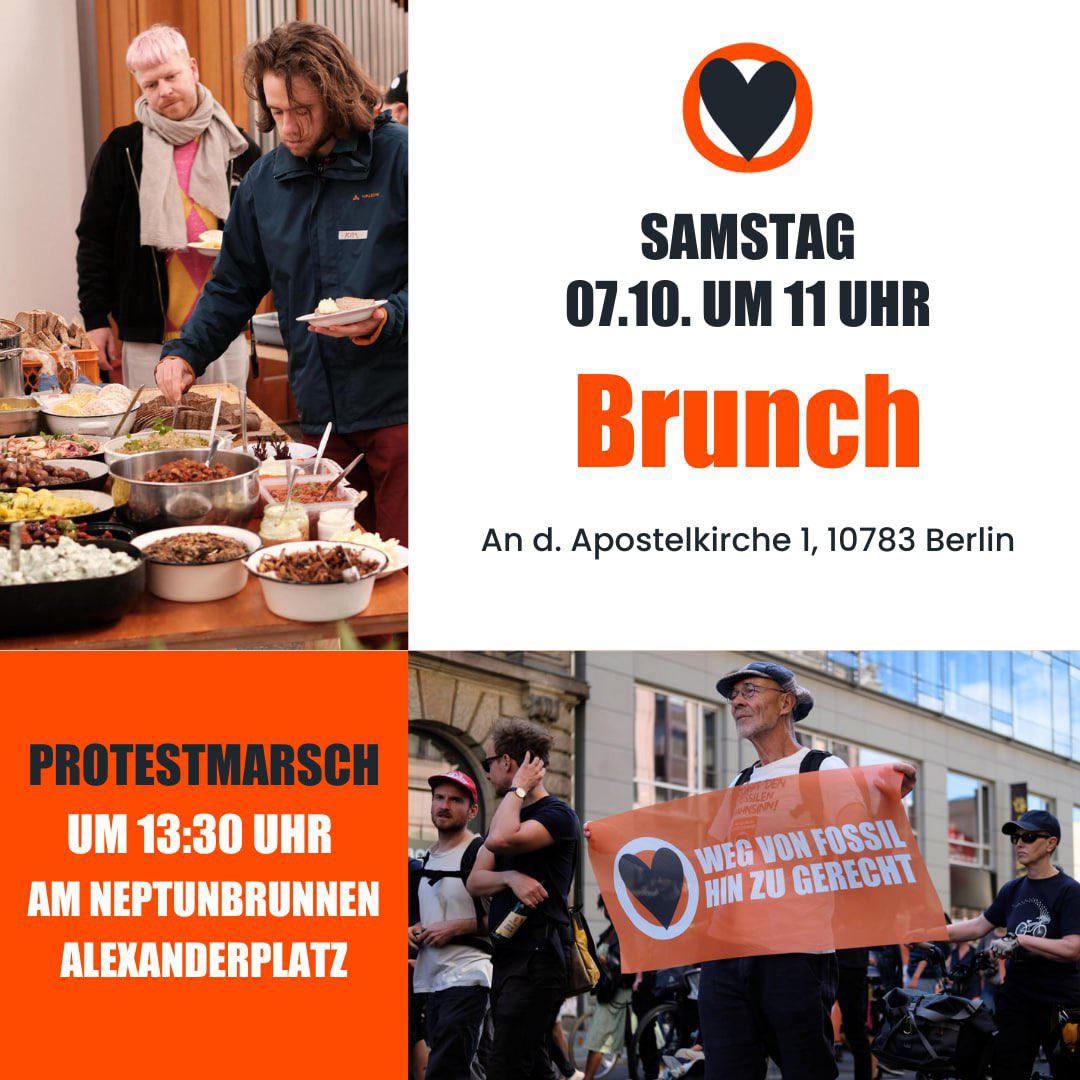 In Solidarity, D Dash
Join DE This Sunday for a talk about how you can join this exciting group - and start making headlines of your own! Or at least help others do the same.
"What are our responsibilities at this time? Because of the fossil fuel industry, we are facing horrors of a magnitude never before experienced in our existence. Our government continues to lead us to the edge of no return. We must stand up and defend ourselves. No one else is going to do it. It must be us, if we want to live.
Our methods must be disruptive, and they must be nonviolent. Our actions are evidence-based, credible, and we have a plan. The only thing missing at this point in time is YOU!"
Register now at declareemergency.org/events